General boiler
- Carbon steel or stainless steel cyclones.


- Distributors from 4 to 12 mouths.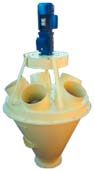 - Bypass, boxes two three directions.


- Buckets of carbon steel, stainless or wear as.


In addition:
Butterfly valves in various sizes, mortar mixers, pipes, vibrant, pipes reinforced with plates wear, repair of crushers, screens and installation of heavy machinery. Service truck crane own.